Tucked away down an unremarkable side-street near the centre of the western French city, the
Villa Hamster
offers guests the "unique" opportunity to leave their species at the door and live the life of a rodent.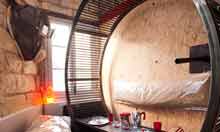 Lost in translation? ... Villa Hamster's human wheel. Photograph: Cedric Chasse
A compact space of 18m2 in a building dating back to the 1700s, the unusual rental home has been deliberately designed to evoke a hamster's cage. It boasts such authentic facilities as containers of organic grain, a water tube which guests can sip, and a double bed accessible only by a step ladder and a quick scramble on all fours. The pièce de résistance is a 2m-wide metal wheel in which both residents, if they wish, can take a turn side-by-side.
So where did the idea come from? Yann Falquerho, the 42-year-old scenographer says "We wanted to create a place that was a real gîte - a place where you could sleep and be comfortable - but also where you could have a real experience," he explained. "We wanted it to be eccentric and we decided that the funniest experience would be to become an animal.
Hmm, this is taking furries to a new level. For those of you who don't know what furries are I am not going to explain. Look it up you will be both horrified and amused. In the meantime, isn't the lil' hamster winking cute?? The furries would think he was really cute if you know what I mean? Gross...